Mini Guitar Amp
This mini guitar amplifier is based on the Ruby Amp (runoffgroove.com). It can yield ½ Watt at 9V, being perfect as a home practice amp. It has gain and volume control, offering a very dynamic sound on any speaker.
---
Steps
---
Created by
DHEA
Status:
Active
ENCLOSURE AND WIRING
Step 5 of 5
PLACEMENT
You should install all the parts (DC and 3.5 jack connectors, 9V battery clip, 3PDT foot switch, assembled PCB...) in the enclosure. The led diode and its holder can be moved to the place where you want, just respect the polarity. The round side and longest leg is the anode (marked as a square pad in the PCB). It is possible that you need to remove the little metal tag from the potentiometers in order to easily install them in an enclosure.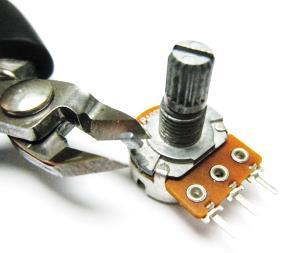 You can create your own element distribution and use many types of enclosures. It is recommended to use a metal enclosure and connect it to the ground in order to attenuate the noise (usually the GND of the input and output jacks are in contact with the enclosure). This mini guitar amplifier is a very popular project; you can check other DIY enthusiasms work for inspiration.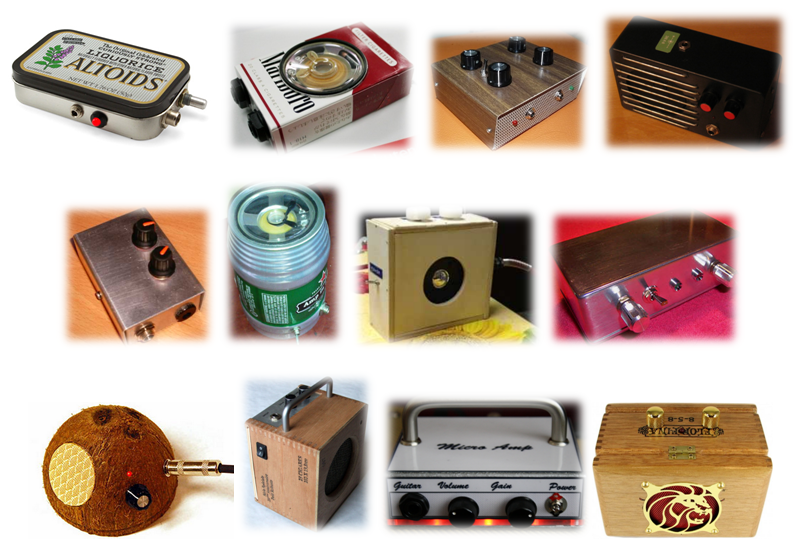 WIRING
You can power up the amp with DC adapter (9-12 V) or a battery. The diagram shows the connections to use the DC connector as negative tip (standardized Boss style 2.1 mm with a negative tip orientation).
You can use the stereo input jack, the ON/OFF switch or both to turn on the amp. In the diagram, it is shown a general case with all the elements, feel free to modify and adapt to your necessities.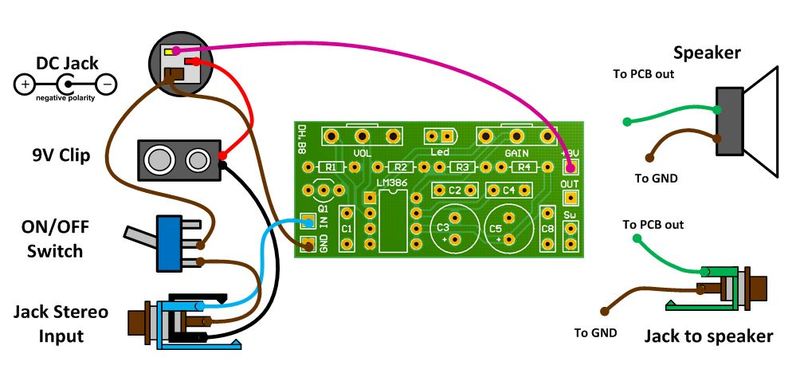 MODIFICATIONS AND EXPERIMENTATION
You can have a boost selector by adding a 100nF capacitor on C6 and connecting a switch to Sw.

---